Distance Education
ECU Career Services offers the same resources and services to our distance education students that are not located on campus. This page will help highlight some of the online tools we offer to help distance education students succeed in their career development.
Scheduling An Appointment
To schedule an appointment login to Handshake and select "Appointments" under the Career Center link from the homepage. For distance education students, our staff offer both phone and online appointments through WebEx.
We encourage all students to contact their career liaisons by email for more information on services and programs. Click here for the list of staff and their liaison areas.
Online Resources
NEW –  Here's How Virtual Workshops Series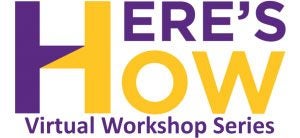 Topics include: Resume Writing, Job Search Strategies, and Strategic Interviewing



Handshake is an exclusive job and internship database for all ECU students and alumni. This system allows you to access job and internship opportunities, upload various documents, learn about upcoming events and sign up for on campus interviews.
Resume samples by college are available to all ECU students and alumni. Visit career.ecu.edu/resumes-cover-letters/sample-resumes/

Interviewing.com is a software that allows you to utilize a home webcam and computer or tablet to conduct and customize practice interviews. You can then generate a link of your interview to share with others for their review.



Virtual Resume Review
Click here to submit your resume online for review.


A self-paced career guidance tool designed to help select the right area of study, explore various career options, and provide valuable occupational information.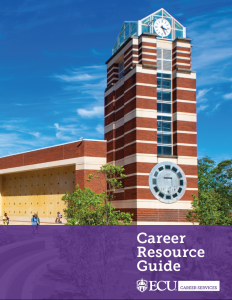 The Career Resource Guide is an information booklet filled with tools and resources to help you. Click below to get detailed information, examples, and templates on topics such as; Career Exploration, Cover Letters, Resumes, Job Search Strategies, Networking, Interviews, and Graduate School.
---
MAKE AN APPOINTMENT WITH A CAREER COUNSELOR TODAY!

To make an appointment, login to Handshake and select "Appointments" under the Career Center link on the homepage.