Resumes & Cover Letters
To schedule an appointment and have your resume and cover letter reviewed login to Handshake and select "Appointments" under the Career Center tab from the homepage. Drop-In Hours are available Monday-Friday from 11:00 AM – 3:00 PM while classes are in session at the main office located at 701 East 5th Street.
---
Resume Styles
Chronological resumes present your job-related experiences in reverse chronological date order (most recent listed first and then going backwards in time). Consider using this style if you have an established career direction and you are continuing on the same or similar career path.
Functional resumes group your skills and experiences together based on job-related functional areas. Place your experience statements together beneath job-related functional areas. A chronological listing of employment history should also be included. Consider using this style if you are changing career direction or if you have skill sets from past experiences that may not be directly related.
Combination resumes bring relevant work experience/ history to the forefront by breaking the experience/work history in to two sections: "Related" and "Other/Additional." The combination resume generally starts with a functional resume format that allows the reader to see your skills, accomplishments, and qualifications. It first lets the reader see the experience you have that is related to the job opening, then lets the potential employer look at your work history. This style allows the reader to first match your qualifications against the needs of the job opening, and then gives the reader a sense of where the accomplishments took place.
Resumes and a Curriculum Vita are different styles of document with differing information. For more information  click here.
---
Cover Letter
While the resume serves as an "advertisement" and overview of your background, the cover letter can heighten the employer's incentive to learn more about you and connect your skills to the opportunity.  Tailor your letter to the requirements of the position and the employer's needs.
Want to learn more? Here's How Virtual Workshops Series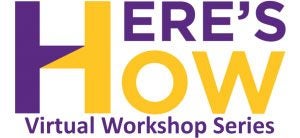 ---

---
MAKE AN APPOINTMENT WITH A CAREER COUNSELOR TODAY!

To make a Resume and Cover Letter Review appointment, login to Handshake and select "Appointments" under the Career Center link on the homepage.