Resume & CV
If you seek a faculty, research, clinical, or scientific position, you will need a Curriculum Vita. You may also want to consider this format when in the fields of healthcare, athletic training, education, social work, counseling, psychology, philosophy, anthropology, journalism, or other areas where you may have participated in various applied, "hands-on" experience and training opportunities related to your major field of interest.
A vita can range from 2 to 12 pages or more, depending on experience, and offers an in-depth look into any and all professional experiences you care to relate to the position you are seeking. For example: Education, Awards and Fellowships, Teaching Experience, Research Experience, Computer/ Technical Skills, Honors, Professional Activities, Presentations, Publications, Professional Memberships, Travel/Cultural Experiences, and others.
You should begin with a heading that includes your name, address, telephone number, and email address. If you plan to move, be sure to provide a way for employers to reach you, such as a family member's address. If your email account was established through the university, make sure you set up an account that will remain active after you leave school (Always choose an email address that appears professional).
To help understand the difference between a CV and Resume see the chart below that compares the two documents:
Curriculum Vita
Overview of academic accomplishments
Primarily used for academic positions
Should be frequently updated
Generally several pages in length
Constructs a scholarly identity
Resume
Highlights job-related skills, education, experiences and activities
Primarily used for non-academic positions
Should be targeted and 1-2 pages
Purpose is to obtain an interview
Constructs a professional identity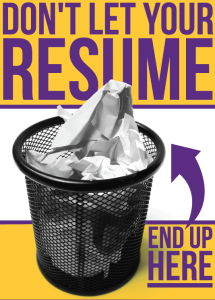 ---
MAKE AN APPOINTMENT WITH A CAREER COUNSELOR TODAY!

To make a Resume or CV Review appointment, login to Handshake and select "Appointments" under the Career Center link on the homepage.